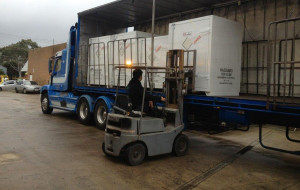 Established more than 25 years ago as a small family business, HAZGUARD has grown to become a market leader in design and innovation for dangerous goods storage and segregation solutions.
As a previous winner of the B.H.P. Awards for the Pursuit of Excellence and recipient of the Hinch Enterprise Award in Recognition of Outstanding Achievement and Business Enterprise by an Australian Company, HAZGUARD prides itself on the quality, innovation and professionalism of its products and services.
Experts in the supply of fire rated dangerous goods stores Australia-wde, HAZGUARD is now utilising its vast experience to keep innovating, and is focusing its efforts on the transport industry, to deliver the most functional and compliant Type II segregation device on the market today.
HAZGUARD have also recently developed a Type I segregation device for capacities less than 450L, suitable for vans and small taxi trucks and are making inquiries into new products to assist the mining industry, in particular the storage and transport of Class 1, explosives.
Regarding segregation devices, the team at HAZGUARD acknowledges that working with some of Australia's largest transport companies and chemical manufacturers has been a great experience. Their feedback and suggestions for improving our products have been invaluable and we look forward to working with them in the future to continue to push the boundaries and develop the most versatile, functional and compliant products available on the market today. Once of the unique features of HAZGUARD is its ability to custom make all products to suit the specific requirements of each customer.
General Manager of HAZGUARD, Alison Smith, has noticed a change in the regulatory landscape for the transport industry, whereby she is receiving an increasing number of inquiries for segregation devices, as authorities such as the EPA, State Police & Government Bodies and the National Transport Commission are increasing their focus on compliance and ramping up their inspection and enforcement activities, issuing an increasing amount of warning, fines and penalties.
The team at HAZGUARD look forward to the future, where new products will be launched, and their mission to lead the market in the innovation and design of dangerous goods storage and segregation solutions will continue.